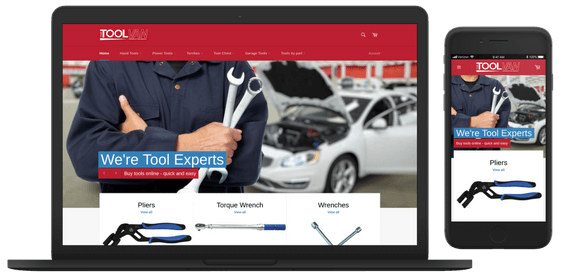 Summary
The Tool Van is an automotive tool supplier based in Coatbridge, near Glasgow. They have over 30 years experience in the motor trade industry and work with mechanics and garages throughout Scotland.
The Tool Van got in touch with Manco Media to develop an ecommerce store. They didn't have any online presence before approaching us and done all of their business offline. This limited their reach for new customers.
The business model for tool suppliers is fairly old school and relied on sellers travelling to individual garages to sell face-to-face. Most suppliers offered payment plans to enable mechanics to pay for their tools in installments. It requires a lot of work and time to ensure payments are made on time.
Iain wanted to be able to sell to his existing and attract new customers online via his own branded website.
We were excited to work with him because we instantly saw the potential of improving the business for both customers and Iain.
Our Approach
We started by going through our business discovery process to find out how the industry typically worked, who the main competitors were and how they operated. This allowed us to come up with a unique value that none of his competitors offered
We discovered being able to offer customers the convenience of applying for finance online was crucial. The ability to instantly get a decision on the finance was a game changer. Manco Media worked with 3rd party suppliers to integrate and develop an intuitive finance system, that was simple for customers to use and delivered a seamless experience.
In addition to this, we knew how important it was for Iain to be able to send out products and update items on his website without great technical experience. Therefore, the site was developed on a secure, fast and simple to use ecommerce platform that will allow him to scale as the business grows.
The Result
Since the launch of the new ecommerce site, The Tool Van has seen an increase in sales via their new website. It's also turned into another marketing tool which helps the customers Iain still meets face to face. It allows those customers to instantly see the full range of products on offer. Something that wasn't possible to do before, as you can only travel about with so many tools in the van.