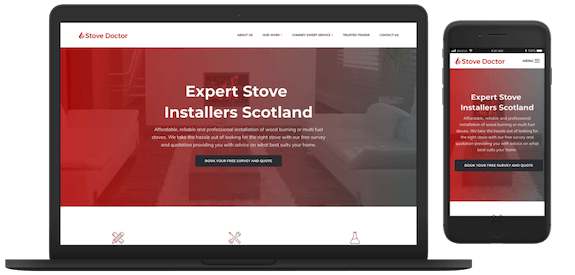 Summary
Stove Doctor is a family run stove installation company based in Larkhall, Glasgow. They install and repair wood burner and multi fuel stoves.
Stove Doctor got in touch with Manco Media through one of our previous clients. They wanted to redesign their existing website which was outdated and didn't work on mobile devices.
They also wanted to streamline some of their admin processes in regards to their customer queries and bookings.
What inspired us to work with Stove Doctor was their high standard of work and attention to quality. They had a complete focus on the customer. That showed in their impeccable reviews online.
Our Approach
We started by doing an audit of their existing website to determine what elements we wanted to keep and which had to be scrapped. The web design had to make it easy for customer's to do two things; see the quality of workmanship and allow them to book a quote quickly.
We carried out our business discovery process to learn more about their competitors and how the business worked.  One major thing the old website lacked in addtion to the poor design, was that it didn't highlight what Stove Doctor are exceptional at. It's the one thing no one could compete with them on. Their amazing customer experience. They had 5 star reviews on Facebook, Trusted Trader, Yell but it wasn't anywhere on their website.
The other major thing was the old site did not work on mobile at all. Google now actually crawls and ranks websites based on their mobile site. It's called mobile first indexing.  We developed a modern website that was fast, secure and optimised to work perfectly on mobile.
We also gave the logo a modern look.
The Result
Since the launch of the new site Stove Doctor has seen an increase in the number of customer bookings and sales. This was helped by the simplified user experience on the website and the SEO Strategy to get them more clicks from Google – with an increase of 78% in google search traffic in 3 months. They now rank top 10 in google for over 10 key search terms with atleast 4 terms ranking 1-3.
In addition to the new mobile responsive website, we also helped with implementing a customer relationship management database (CRM). This helped to centralise their information to more effectively service their customers and save the business time.
Lastly, an improved contact form and system allowed customers to more easily give the business correct information to serve them faster.
Checkout out Stove Doctor