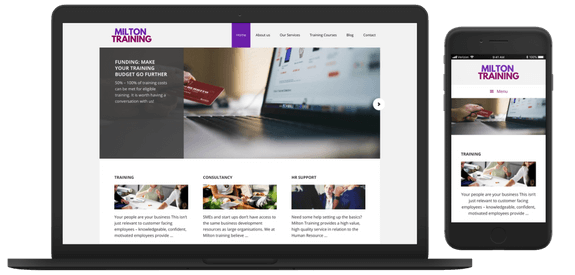 Summary
Milton Training are an employee training and HR support services company based in Greenock, Scotland.  They help SME businesses grow and stay compliant with UK law.
Their aim is to train and develop staff on behalf of businesses who are looking to outsource this to an expert.
Therefore, having a professionally designed website was critical as part of their marketing strategy.
Having a website is like having a 24/7 sales person. It's how the vast majority of us find information about products and services.
So, Milton Training needed their website to do a couple of things; give enough information to prospective customers so that they could get in touch quickly. They also needed a small ecommerce function in order to sell their training courses online.
Our Approach
We started by doing a deep dive into their business to better understand how to help their target market. We also wanted to know who their competitors were and how they operated.
We developed a sitemap to plan out website content. This helped the business owner figure out what they should focus on in terms of ongoing content.
We developed a plan to design their website, logo and how to implement local SEO.
The Result
Milton Training now has a professional, good looking website that helps to market their business online.
Our local SEO strategy has helped them get in front of their target customers. Their website is now more findable on Google after we optimised their Google My Business Listing and Facebook page.
We actively work with Milton Training on their continued growth strategy as well as maintaining and updating their website on one of our support plans
Checkout Milton Training